EuroMillions Results for Friday 4th January 2013
As we said yesterday, the first EuroMillions draw of 2013 on Tuesday 1st January resulted in three lucky players sharing the jackpot, so there was a brand new jackpot of €15 / £12 million to be won in the game that took place last night. Unfortunately, the good fortune that started the year didn't carry through for aspiring jackpot winners, but there was plenty of luck to be found across the twelve consolation prize levels, as we will explain in a moment. Before we do that, here are the EuroMillions results for Friday 4th January 2013…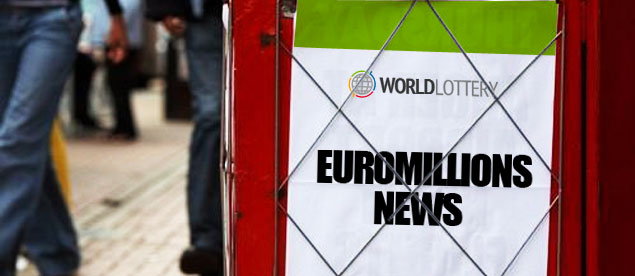 Latest EuroMillions Results for 4 January 2013
Millionaire Maker Number: JZT843255
EuroMillions Millionaire Raffle: JZT843255
EuroMillions Plus: (09) (27) (34) (43) (50)
Joker: 0 851 126
The biggest winners in the main EuroMillions game were the owners of four tickets that matched five main numbers and one Lucky Star to land a second-tier prize of €410,159 / £293,023 each. 15 tickets matched the five main numbers without either Lucky Star to win €36,459 / £26,046 each, whilst 52 tickets won €5,258 / £3,757 each at the fourth-tier prize level by matching four main numbers and both Lucky Stars.
More than 2.81 million prizes were won in total, so although the jackpot itself emerged unscathed there were still plenty of reasons for players to celebrate. Hopefully there will be even more celebrations in the next game this Tuesday, when the EuroMillions rollover jackpot will be worth an estimated €22 / £17 million! In the meantime, visit euro-millions.com to check out full details of the prizes won last night.
Friday's EuroMillions Plus game in Ireland gave players their second opportunity of the week to land a top prize of €500,000, but none of them succeeded because no ticket could match all five of the numbers drawn. 32 tickets came very close to winning the top prize, but ended up having to settle for a second-tier prize of €2,000 each for matching four numbers. Another 1,824 tickets matched three numbers to win €20 each.
Congratulations to everyone who won a lottery prize of any kind on Friday night, and good luck to those of you who will be participating in the Saturday lottery games tonight!
Written by Lottie McDonald
Article Published: Saturday 5th January 2013 8:55 AM GMT
World Lottery News Index
Play EuroMillions

Friday's Next Estimated Jackpot: