EuroMillions Results for Friday 24th May 2013
After seven consecutive jackpot rollovers, EuroMillions players were hoping that the sequence would reach its conclusion last night, but unfortunately that wasn't to be. The jackpot, which had a final value of €84 / £70 million, rolled over for an eighth time, which means that players will now have to wait until Tuesday for their next chance to win the top prize in Europe's biggest lottery game. Fortunately, twelve tiers of consolation prizes helped to give more than 3.75 million of last night's participants a reason to be cheerful, so let's take a look at who won what as we summarise the EuroMillions results for Friday 24th May, 2013…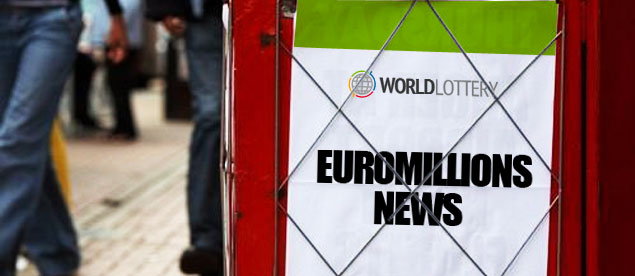 EuroMillions Plus: (35) (39) (43) (47) (50)
Joker: 8 352 620
By the time the five main numbers had been drawn in last night's EuroMillions game, 37 tickets had matched each and every one of them. 18 of those tickets went on to match one of the two Lucky Star numbers in addition, and that was enough to give their owners a second tier consolation prize of €114,335 / £76,503 each. The remaining 19 tickets, which matched five main numbers only, had to settle for a third tier prize worth €36,106 / £24,159 each.
The fourth tier prize level saw 106 tickets win €3,236 / £2,165 each by matching four main numbers as well as both Lucky Stars. 2,727 tickets matched four main numbers and one Lucky Star to win €110 / £73 each, and the total number of prizes landed on the night was 3,758,331. A complete analysis of those prizes can be found by visiting the EuroMillions Results Page at Euro-Millions.com.
Over in Ireland, EuroMillions players who were disappointed by the rolling jackpot had a chance to win a top prize of €500,000 in the EuroMillions Plus game. Sadly, no player succeeded in matching all five numbers drawn, so that top prize also escaped unscathed. On a more positive note, 56 tickets matched four numbers to win a second tier prize of €2,000 each, whilst another 2,244 tickets won €20 each by matching three numbers.
EuroMillions fans can now look forward to playing for a jackpot that is estimated to be worth around €94 / £81 million on Tuesday 28th May. In the meantime, there are more than enough Saturday lottery games to keep players busy. Good luck to those of you who intend to win big this evening, and don't forget to check back tomorrow for our round up of those all-important lottery results!
Written by Lottie McDonald
Article Published: Saturday 25th May 2013 8:41 AM GMT
World Lottery News Index
Play EuroMillions

Friday's Next Estimated Jackpot: