Health Lottery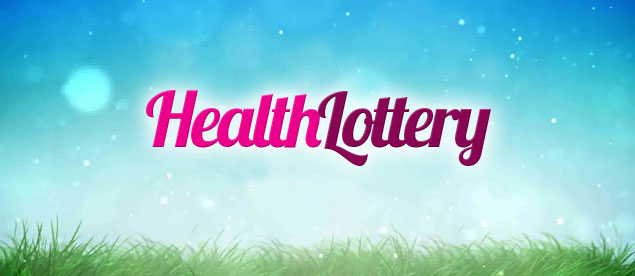 The Health Lottery was launched in September 2011 by Richard Desmond with the intention of raising funds for 'health related good causes'. The first draw for the Health Lottery took place on 8th October and the matrix for this lottery is 5/50. This means players wishing to participate have to pick five numbers from 50 to play. There are six winning prize tiers for the Health Lottery with a top prize of £100,000 for matching all five numbers.

Play the Health Lottery
The good causes around Great Britain are set to benefit to the tune of 20p in every £1 generated from ticket sales for the Health Lottery but unlike a national lottery the Health Lottery benefits 51 separate society lotteries which represent Local Authority areas. One of these society lotteries will feature in each draw. Health Lottery draws take place every Wednesday and Saturday at around 8.00/8.30pm and then are aired at 9.55pm on Channel 5.
Wednesday Health Lottery
The Health Lottery launched its second weekly draw in October 2012 called Win Wednesdays to celebrate this lotteries first anniversary. On 17th October 2012 the first ever Wednesday Health Lottery was held and Wednesday draws play out just like a Saturday draw.
How to Play Health Lottery
To play the Health Lottery players are required to pick five numbers from 50. An additional Bonus Ball is drawn from the remaining 45 numbers and it gives players the chance to win additional prizes. In order to be a winner you need to match two main numbers plus the Bonus Ball. Here are the prize tiers, winning number combinations and odds:
| | | |
| --- | --- | --- |
| Match Required | Prize | Odds |
| Match 5 | up to £100,000* | 1 in 2,118,760 |
| Match 4 + Bonus Ball | £10,000 | 1 in 423,752 |
| Match 4 | £250 | 1 in 9,631 |
| Match 3 + Bonus Ball | £50 | 1 in 4,815 |
| Match 3 | £20 | 1 in 224 |
| Match 2 + Bonus Ball | £10 | 1 in 224 |
*The Terms and Conditions for the Health Lottery jackpot prize tier state that "In very exceptional circumstances, depending on the number of winners overall and per prize category, prizes may be less than stated."
Unlike other lotteries around the world the Match 5 jackpot prize is guaranteed and not determined by ticket sales. This means that should multiple players win on this prize tier then they all receive the jackpot amount rather than an equal proportion of it. Of course there will be some week where there are no winners in this prize tier in which case the funds generated by ticket sales not distributed to good causes or used as prize money will remain on the prize fund for future draws.
Previous Health Lottery Promotions
Health Lottery Hot Ticket
On the 21st July the Health Lottery introduced Hot Tickets. Hot Tickets is a special draw that takes place after the main draw in which a certain code will be drawn. The Hot Ticket code is displayed on the Health Lottery ticket and the player that matches this unique number will win £100,000. This means that in every Health Lottery draw there will be a £100,000 winner regardless of whether any players win the £100,000 by matching the five numbers in the main Health Lottery results. Hot Tickets isn't an additional fee to play and in certain draws there will be on offer to win prizes such as cars, holidays and shopping sprees but only in a Saturday draw and not in a Wednesday draw, but this promotion ended on the 13th October 2012.
Magic Monday from the Health Lottery
In addition to any prizes you may win playing the Health Lottery your ticket is also, in essence, a 'money off' voucher for some of the best known retailers. Each week the Magic Monday offer changes and you can earn free gifts or money off of purchases from places like Lidl, WHSMith and Carphone Warehouse. Details of the current offer are shown along with the Health Lottery results.
Second Chance Guaranteed Winner
The Second Chance Guaranteed Winner comes into play if there are no match five jackpot winners on a draw. Each Health Lottery ticket has a unique reference number and if a jackpot winner is not found them a random draw will take place to ensure that at least one person each week wins the top prize of £100,000.
Health Lottery Results
You can check all the Health Lottery results here
Interesting Health Lottery Facts
Ticket sales started 29th September 2011
First Health Lottery draw on Saturday 8th October 2011
First Health Lottery Wednesday draw was held 17th October 2012
The Health Lottery gameplay changed to include a Bonus Ball and three more prize tiers in May 2013
Related Health Lottery News